Rudy Promises Transparency...And the Check's in the Mail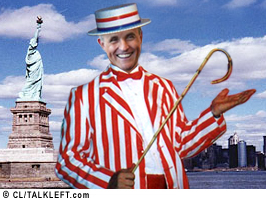 This is really too funny. From Jim Dwyer at the New York Times:
In a debate among Republican candidates this week, Mr. Giuliani was asked what promises he would make about running an open White House.

"I would make sure that government was transparent," Mr. Giuliani said. "My government in New York City was so transparent that they knew every single thing I did almost every time I did it."
Really? As Dwyer points out:
That was a daring claim, considering that prying information out of the Giuliani City Hall required teams of lawyers with the persistence of mules. To cite three of the most prominent examples, he tried to block the release of different batches of public records to the city's Independent Budget Office, to the city's public advocate, and to the state comptroller. He was sued on each occasion. He lost every time. He appealed each decision. He lost every appeal.
Openness from Rudy? And the check is in the mail.