"Two Little FISA Frankensteins"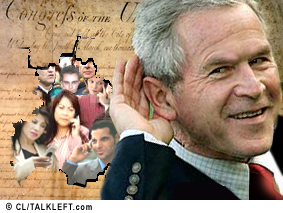 Update here.
Update: Harry Reid says debate on the bills will begin Monday.
There will be a vote on FISA today. The Senate will consider the Senate Intelligence Committee's bill, S.2440, minus its provision calling for telecom immunity, and S. 2441, the Senate Judiciary Committee's bill, which has no immunity provision, but is somewhat better on wiretapping. The ACLU says,
"Another way to think of it: S 2440 is good on immunity and bad on wiretapping while S. 2441 is bad on immunity but good on wiretapping. It looks as though Senator Reid has created two little FISA Frankensteins."
[Edit: I assume the ACLU means the two provisions of S 2440 that will be taken up. It does have another provision calling for immunity. Reid's statement later today indicates he's changed his mind and will now have the Senate consider the entire House Intel bill, including the provision with immunity.]
The ACLU is asking Senators to participate in the Dodd Filibuster and prevent the passage of any bill that includes immunity.
"Senator Reid is forcing senators to trade the Fourth Amendment to avoid immunity or to give immunity in order to protect Fourth Amendment rights. The ACLU, on behalf its members across this country, asks that he bring the Judiciary Committee's FISA bill to the floor -- without immunity for companies that broke the law," said Fredrickson.
If nothing gets passed, or if Bush vetos a new bill, it's not the end of the world. The Protect America Act, hastily passed before Congress recessed in August, has a 180 day expiration date, which is February. Then again, the Patriot Act had sunsets and look what happened there.
We don't need another end-run around the Fourth Amendment. [more....]