Rudy and Judi in Southampton: Guess Who Paid?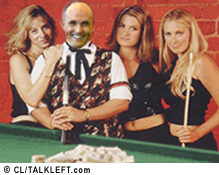 Politico has a major story about Rudy Giuliani. Through a freedom of information act request, it obtained copies of Rudy's Amex bills and billing records that show Rudy billed the city using obscure agencies for hundreds of thousands of dollars for his and his detail's travels, including many trips to Southampton, during the early days of his and Judith Nathan's relationship.
The point is not that he was married. Everyone knows he cheated on his wife. The point is the unusual billing to other agencies and his office's refusal to provide the documents to the comptroller's office investigating the expenses and billing, citing "security concerns." The comptroller then alerted Bloomberg's office who forwarded the matter for investigation.
One thing I find unforgivable is his billing of $400,000, including his 2001 Southampton expenses (he went there every weekend in August and the first in September and none of the trips were listed on his official schedule) to the Assigned Counsel Administrative Office -- the office that provides lawyers for the poor. As if they aren't already underfunded, Rudy took more money out of that till.
More...