Replay: Rudy vs. Hillary 2000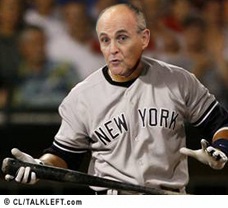 The New York Times re-examines the 2000 Senate race between Hillary and Rudy Giuliani.
One interpretation: Leopards don't change their spots. The Rudy who lost interest when he couldn't do it his way in 2000 is the same Rudy who will lose if nominated by Republicans in 2008.
As spring arrived, Mr. Giuliani had yet to give a major speech on federal issues. He was barely campaigning upstate. Mr. Giuliani dismissed the concerns of Republican leaders, explaining that he, unlike Mrs. Clinton, had a full-time job.
Mr. Giuliani's campaign began to falter in March.
A typical Rudy faux-pas: [More...]
Mr. Giuliani headed upstate, for a Republican dinner in Binghamton. He spoke for exactly 22 minutes, stood for an eight-minute news conference, and then turned for home. Less than a week later, he abruptly canceled four upstate events because, he said, he wanted to attend the rescheduled opening game of the Yankees.

Mrs. Clinton's campaign pounced. Overnight, aides arranged a trip for her to the cities Mr. Giuliani had snubbed and worked the telephone with upstate reporters to stoke the story.
Watch and see. Rudy Giuliani will lose his cool once too often during the campaign. His arrogance will become his defining trait. He ran last time as a personal sport, even though he didn't want the job -- he only wanted to see if he could beat Hillary. This time he wants the job. He wants the glory. But he's still the same person underneath. And this time America won't want him.