Time, Klein and FISA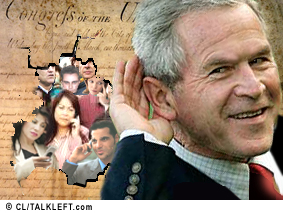 Update: Time now prints this correction, which isn't much of a correction:
In the original version of this story, Joe Klein wrote that the House Democratic version of the Foreign Intelligence Surveillance Act (FISA) would allow a court review of individual foreign surveillance targets. Republicans believe the bill can be interpreted that way, but Democrats don't.
****
The uproar over Joe Klein's FISA articles in Time Magazine is growing:
If you are new to the story, start with Ryan Singal at Wired or Glenn Greenwald.
Then check out Matt Stoller at Open Left, Dan Gillmoor and Jane at Firedoglake.
What Klein said initially: