Rudy's Misplaced Loyalty to Friends as His Achilles Heel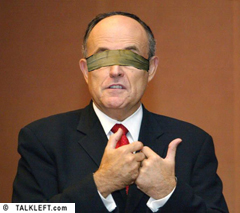 One of the chapters in Rudy's book is titled "Surround Yourself With Great People." As the Washington Post points out today, many of his appointments as Mayor of New York turned out to be dismal choices, based on blind loyalty to his friends rather than competence.
We all know about Bernie and Rudy, but there are plenty of other examples, which taken together, show "a pattern of rewarding loyalty over competence in personnel decisions:
There's Howard Safir, whom Rudy appointed Police Commissioner after the very competent Bill Bratton:
[Safir] came under intense criticism after the fatal police shooting of an unarmed black man, for failing to provide adequate oversight of the police unit involved in the shootings and for his detached response. He also came under scrutiny for, among other things, taking a corporate jet to the Academy Awards shortly after the shootings, for assigning eight detectives to his daughter's wedding, and for sending officers to investigate a woman who rear-ended his wife's car.
More...