Pro-Business Rudy: Less Regulation, More Tax Cuts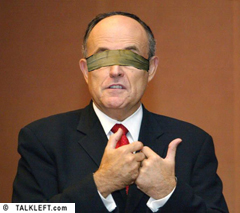 Out-of-Touch Rudy Giuliani today called for fewer regulations and increased tax cuts for corporations as a means of responding to outsourcing jobs.
Businesses have a right to make a profit, he said. The solution, he said, is lifting some regulations on businesses and lowering the corporate tax rate.
Just what we need, more corporate welfare.