An Immigration Nightmare: Action Alert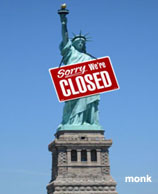 Bump and Update: An online petition to help the Servanos is here. If you are from Pennsylvania, or neighboring area, please go on over and sign. Also, here's their lawyers' letter (pdf) to Homeland Security.
*****
Original Post: 11/17/07
Meet Pedro and Salvacion Servano, a married Filipino couple who have been in the U.S. for 25 years.
Pedro Servano, 54, is a prominent family doctor in an underserved area of central Pennsylvania. His 51-year-old wife runs a grocery store and bakery..... Pedro Servano works at Geisinger Medical Group in Selinsgrove, where he has about 2,000 patients.

Two of their four children graduated from Temple University, while one is in high school and another is in middle school. Several years ago, the Servanos bought and renovated two properties in nearby Sunbury. Salvacion Servano recently opened a small grocery store there, selling Asian goods and baked items.
More...