Dyslexic Execution MD Worked for Feds, Not Just Missouri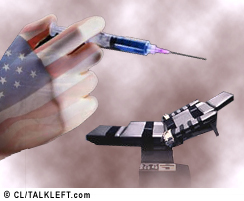 Remember Dr. Alan R. Doerhoff of Jefferson City, Mo? He's the dyslexic physician who administered the doses of chemicals during state executions and previously admitted "sometimes giving inmates smaller amounts of anesthesia than the state had said was its policy."
Turns out Dr. Doerhoff has also been working on federal executions at the Death House in Terre Haute, IN.
The doctor barred by a federal judge from performing executions in Missouri is part of the federal government's secret execution team at its death chamber in Indiana, according to court documents filed in a death penalty appeal.
When Dr. Doerhoff testified before the federal court that banned his participation in state executions in June, 2006, the media didn't report his name. That changed a month later.
The Post-Dispatch reported his name the following month and revealed that he had been sued for malpractice more than 20 times, denied staff privileges by two hospitals and reprimanded by the state Board of Healing Arts for failing to disclose the lawsuits to a hospital where he was treating patients.
A lawsuit filed by six federal death row inmates two months ago alleges Dr. Doerhoff is now a member of the Terre Haute execution team:
More...