Fact Checking Rudy's Reconstruction of His Economic Record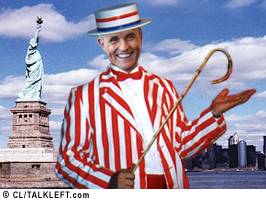 The Boston Globe fact checks Rudy Giuliani's claims about his record with respect to tax cuts and the budget deficit during his mayoral tenure.
A sample:
Giuliani and his campaign often say that he "turned a $2.3 billion deficit into a multibillion-dollar surplus." But both the Citizens Budget Commission, a probusiness watchdog group, and the Independent Budget Office, a city-funded fiscal watchdog organization, said Giuliani left his successor, Michael Bloomberg, a projected budget deficit equal to or larger than the one Giuliani inherited from David Dinkins, the previous mayor.
Rudy's first term was okay but spending proliferated during his second term.
....in the final years of his second term, as city coffers brimmed with taxes generated by the stock market boom, city spending soared well above the inflation rate and nearly all of the surplus in his last year was spent. Giuliani generated annual surpluses in part by routinely lowballing revenue estimates.
More...