Obama Touts His Death Penalty Reform Role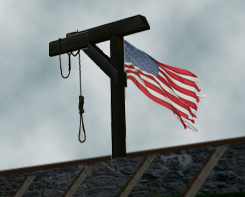 There's no question Barack Obama is to be credited for his role in enacting legislation in Illinois to require mandatory taping of interrogations to reduce wrongful convictions.
But, he is not a death penalty opponent.
Obama wrote in his recent memoir that he thinks the death penalty "does little to deter crime." But he supports capital punishment in cases "so heinous, so beyond the pale, that the community is justified in expressing the full measure of its outrage by meting out the ultimate punishment."
A Chicago Tribune profile of Obama last spring (May 2, 2007, available on Lexis.com) contained this paragraph:
A critic of the state's broken capital punishment system, Obama spent two years working with Republicans to broker a series of reforms aimed at making it more difficult for the innocent to face execution. Still, Obama found himself on various sides of the death penalty debate. Five months into office, he voted to expand the list of death-eligible crimes to include the brutal murder of a senior citizen or a disabled person. Four years later, he opposed adding murders that were part of "gang activity" to the list, saying the term was a "mechanism to target particular neighborhoods (and) particular individuals."(my emphasis)
More...