Rudy Unplugged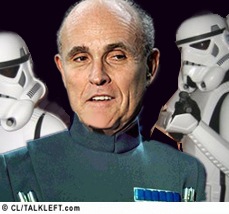 Rudy Giuliani got heckled in Loveland, Colorado this weekend.
The Boston Globe has a very long feature on Rudy as part of its series on all the candidates. Here's what you need to know:
His endorsement of police "stop and frisk" policies, crackdowns on jaywalkers, and roustings of homeless people provoked outcries. The city's liberal establishment was in a perpetual state of outrage, as were leaders of the city's African-American community, nearly all of whom found the mayor's office closed to them.

....Giuliani fought to limit artists, protesters, porn shops, labor demonstrations, street preachers, and sidewalk vendors. In one case, the court blocked him from banning advertisements on city buses that said New York magazine was "Possibly the only good thing in New York Rudy hasn't taken credit for."
He attacked the reputation of a dead man:
More....