Bernie Kerik, Rudy and Larry Ray
Larry Ray, who figures prominently in the Bernie Kerik indictment, has an interesting history.
Here he is with Rudy Giuliani and Mikhail Gorbachev in a photo taken on December 19 or 20, 1997 that was hanging in Bernie's office. The official mayoral picture in the archives (minus Ray) is here.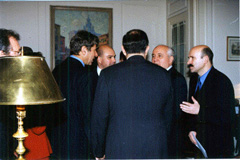 Ray was providing security for Gorbachev. Gorbachev was in town promoting a Pizza Hut commerical he had made to make money for his Gorbachev foundation. (Pizza Hut was really big in Russia back then.) I've inserted who's who into a larger version of the photo here.
Here's a picture of Bernie and Ray.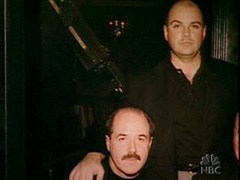 Ray was best man at Bernie's wedding on November 1, 1998. Donna Hanover, Rudy's then wife, attended the wedding but Rudy didn't. Why not?
More...
Checking old news stories, Rudy campaigned in Florida with Bush that Friday (October 30); He made an appearance in Staten Island Saturday (October 31) and was in New York Sunday morning (November 1) to kick off the New York marathon. His next campaign event was in Boston at 5pm on Monday night, November 2. So he could have gone to the wedding, but didn't.
If he talked to Hanover at all, he would have known that Larry Ray was Bernie's best man.
Well before Ray's federal indictment in 2000 over a stock scheme, Larry Ray was a federal snitch. (His lawyer confirms it in this pleading (pdf).)
Ray started working for the feds in 1996 when mob guy Edward Garafola allegedly put out a contract on him.
Garafola was sentenced in September of this year to 30 years for putting out a hit on his cousin in 1990 and admitting ordering the killing of his brother-in-law Sammy "The Bull" Gravano in 1995, which was fortuitously avoided when the feds busted Sammy on ecstasy charges.
The New York Times, 9/7/07:
A member of the Gambino crime family who had been involved in an unsuccessful plot to kill Salvatore Gravano, the mob informant known as Sammy the Bull, was sentenced yesterday in Federal District Court to 30 years in prison in a separate case, prosecutors said. The man, Edward Garafola, 69, has been a ''made'' member of the crime family since the 1970s, said Michael J. Garcia, the United States attorney in Manhattan. He was sentenced yesterday for his 2004 guilty plea to murder and extortion for participating in the 1990 murder of his cousin Edward Garofalo, who was believed to be cooperating with law enforcement. Prosecutors said Mr. Garafola participated in a plot to kill Mr. Gravano in 1999 and 2000.
Ray cooperated with the feds until his indictment in 2000, recording phone calls and keeping records. He claimed his cooperation should have resulted in his not being indicted. It didn't. Ultimately, though, he got probation in the stock scheme.
As for how the cooperation came about, a reporter in the New York Post said it was Bernie who hooked Ray up with the feds in 1996 (December 20, 2004.)
Last week Ray was vague with me concerning how and when he first met Kerik or who had introduced them to each other. But Ray did say that when someone he grew up with and who turned out to be "real bad" entangled him in what developed eventually into a securities fraud case involving a mob-infested company called

U.S.

Bridge of New York, Kerik introduced him to the

FBI.

Whether or not he wound up helping the government (and he is vague on that point, too), he was nonetheless eventually indicted anyway. The

U.S.

Attorney in the case declined to discuss the matter.
Ray got mad at Bernie when Bernie dumped him after his Indictment. Ray later provided the Bronx authorities, the feds and the media with incriminating information about Bernie after Bernie's nomination for Homeland Security failed.
You can find Ray writing in the comments sections of various blogs going off about Rudy and Bernie and blaming them for working with his ex-wife to keep his daughters from him. He and his daughter created this website.
For the connections between Ray, Interstate and Bernie, and between Bernie and Rudy's cousin, Ray Casey and other members of his mayoral administration, a good read is the New Jersey Gaming Complaint against Interstate. The parts about Bernie begin on page 17.
It describes the Ray-Kerik e-mails:
50. In a series of e-mails sent from Kerik to Ray between April and July 1999, Kerik: a) confirmed his close relationship with Ray and Frank DiTommaso; b) repeatedly solicited more money from Ray; c) indicated his lack of sufficient funds to both purchase and renovate his new Bronx Apartment; d)indicated that he would provide information to Frank DiTommaso regarding New York City contracts; e) provided advice concerning Interstate's pending regulatory investigations; f) requested that Ray intercede with Frank DiTommaso on behalf of Kerik's brother, Donald; and g) facilitated a meeting between Ray and a former Director of the Division, who had left his employment with the Division in January 1999.
The DiTommaso brothers were called to the Bronx grand jury to testify against Bernie. They stood up for him and denied that either they or Interstate paid for the renovations on his Riverdale apartment. Then, when Bernie pleaded guilty in the Bronx to the misdemeanors, he admitted Interstate had paid for the renovations. So, the Bronx DA indicted the DiTommaso brothers for perjury. The DA's press release is here. Their trial is set for December 6.
It was DiTomasso at a depositon who alerted everyone to the Ray - Gorbachev - Rudy photo. He said he saw it in Kerik's office. Kerik's lawyer has confirmed the existence of the photo.
Here's a pretty good timeline of events between 1996 and 2000.
A lingering question is, what did Rudy know about Ray and Bernie (not just Interstate and Bernie) and when did he know it?
Perhaps if Mr. Ray is still reading blogs and commenting, he'll give us the answer.