Bernie Kerik, Rudy and Larry Ray
Larry Ray, who figures prominently in the Bernie Kerik indictment, has an interesting history.
Here he is with Rudy Giuliani and Mikhail Gorbachev in a photo taken on December 19 or 20, 1997 that was hanging in Bernie's office. The official mayoral picture in the archives (minus Ray) is here.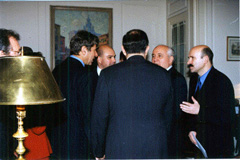 Ray was providing security for Gorbachev. Gorbachev was in town promoting a Pizza Hut commerical he had made to make money for his Gorbachev foundation. (Pizza Hut was really big in Russia back then.) I've inserted who's who into a larger version of the photo here.
Here's a picture of Bernie and Ray.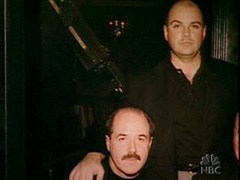 Ray was best man at Bernie's wedding on November 1, 1998. Donna Hanover, Rudy's then wife, attended the wedding but Rudy didn't. Why not?
More...