Rush Limbaugh's Probation Almost Over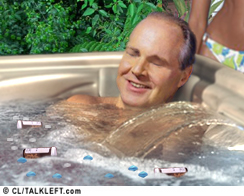 Rush Limbaugh is in his final month of probation. When the month is up, the charge of doctor shopping will be dismissed without his ever having had to enter a plea. He will have a clean record.
According to records, he'll have made an estimated $50 million while on conditional liberty.

"All's well that ends well," he said, contemplating the Oct. 31 finish of his 18-month probation, barring unforeseen trouble. "The system is what it is," Limbaugh, 56, said from his oceanfront compound in Palm Beach. "I became addicted to drugs because of a medical condition" - a bad back - "and I'm convinced now that most addicts come to a point where they do drugs just to stave off withdrawal.
The details of Rush's plea bargain are here.
According to court documents, investigators alleged Rush obtained 2,000 pills over a five month period. What a great job his lawyer, Roy Black, did for him. I'm sure it cost him a pretty penny but I hope he appreciates it.