Supreme Court Stays Mississippi Execution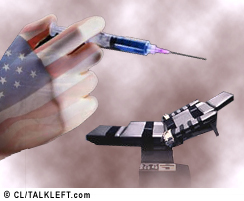 Capital punishment watchers have been anxiously awaiting the Supreme Court's action on the execution of Earl W. Berry, scheduled for tonight in Mississippi.
With 15 minutes to spare, the Court has stayed the execution. The vote was 7 to 2. Scalia and Alito dissented.
Is this a signal that the Court will find lethal injections to be cruel and unusual punishment when it decides the Kentucky case it has agreed to review?
ABC News has more, as does Capital Defense Weekly and Scotus Blog.