Sen. Larry Craig Filing: His Conduct Was Constitutionally Protected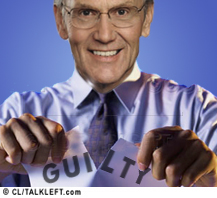 Lawyers for Sen. Larry Craig filed their "Statement of the Case" (pdf) yesterday in the appeal from the court's denial of his motion to withdraw his guilty plea.
They have added a argument that his conduct was constitutionally protected and the statute under which he was charged is overbroad. The ACLU previously included this argument in a friend of court brief on his behalf.
His arguments now:
the disorderly conduct statute is unconstitutional as applied to the facts of Craig's case
the plea was not accurate, voluntary or intelligent
the evidence was insufficient to support the plea
the plea is invalid because the judge never signed anything approving it.