Dems Drop No Telecom Immunity Demand From FISA Bill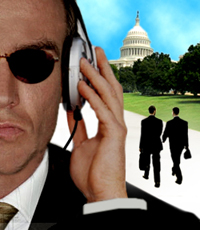 Senate Democrats and Republicans reached agreement with the Bush administration yesterday on the terms of new legislation to control the federal government's domestic surveillance program, which includes a highly controversial grant of legal immunity to telecommunications companies that have assisted the program, according to congressional sources.
Here's more:
The draft Senate bill has the support of the intelligence committee's chairman, John D. Rockefeller IV (D-W.Va.), and Bush's director of national intelligence, Mike McConnell. It will include full immunity for those companies that can demonstrate to a court that they acted pursuant to a legal directive in helping the government with surveillance in the United States.

Such a demonstration, which the bill says could be made in secret, would wipe out a series of pending lawsuits alleging violations of privacy rights by telecommunications companies that provided telephone records, summaries of e-mail traffic and other information to the government after Sept. 11, 2001, without receiving court warrants. Bush had repeatedly threatened to veto any legislation that lacked this provision.
Why am I not surprised? Because I never expected anything else since August when the Dems signed onto Bush's bill so they could go home and vacation during the August recess.
The saddest part is that
FISA
didn't need to be gutted
or
amended
. It needed to be followed.
More...