Nevada Stays Execution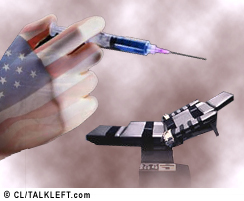 Since the Supreme Court agreed to decide whether the use of lethal injections to execute prisoners violates the Eighth Amendment, at least ten states have stayed executions. Nevada is the latest.
A killer's execution was halted 90 minutes before he was set to die amid arguments from death penalty opponents that the state should wait until the

U.S.

Supreme Court reviews the constitutionality of lethal injections. ... The American Civil Liberties Union of Nevada appealed to halt any executions in the state.