Verizon Turned Over Customer Records Without Court Order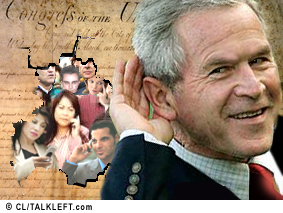 The phone companies have responded to the request by the House Committee on Energy and Commerce for information about their participation in the NSA warrantless wiretapping program.
Verizon admits it supplied hundreds of its customers' records to the agency without a court order.
Verizon also disclosed that the FBI, using administrative subpoenas, sought information identifying not just a person making a call, but all the people that customer called, as well as the people those people called. Verizon does not keep data on this "two-generation community of interest" for customers, but the request highlights the broad reach of the government's quest for data.
More....