Larry Craig Files Appeal from Denial of Guilty Plea Withdrawal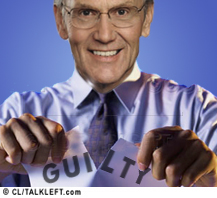 Bump and Update: Craig has filed his appeal. It's four pages but doesn't go into the grounds. And don't expect a ruling anytime soon:
Craig's lawyers must first order and file a transcript of his Sept. 26 hearing. Once that has been filed, his lawyers have 60 days to file a brief outlining his appeal. Then, prosecutors have 45 days to file their response to his appeal. Once those are filed, the court sets a date for oral arguments -- which often occurs about six to eight months later. Ninety days after the oral arguments, the judge issue a decision.
****
Original Post: Larry Craig Slams Romney, Will Appeal Conviction
Sen. Larry Craig is making the tv rounds. Sunday, he vowed to appeal the denial of the motion to withdraw his guilty plea.
More...