Murder in Haditha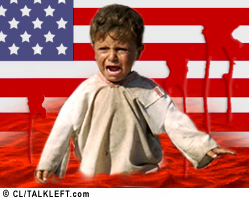 New documents have been released in the Haditha killings of 24 Iraqis by U.S. Marines. They are chilling.
In a nutshell: After the roadside bombing in which a marine was killed, a white taxi with five unarmed civilians happened to drive by the scene.
Staff Sgt. Frank D. Wuterich, the squad's leader, shot the men one by one after Marines ordered them out of a white taxi in the moments following the explosion, which killed one Marine and injured two others, witnesses told investigators. Another Marine fired rounds into their bodies as they lay on the ground.