Judy Miller's Note Triggered Memories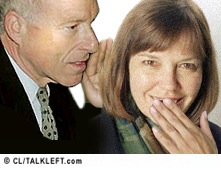 What an afternoon at the Scooter Libby trial. This is what I came to Washington for -- that sense of being right in the middle of the action, totally engrossed in the moment, never once looking at my watch, and when 5:00 came, wishing we didn't have to go home.
The day began slowly enough, with David Addington still on the stand and Libby lawyer Ted Wells questioning him about documents for almost two hours. Enough about that.
The main attraction was journalist and former New York Times reporter Judith Miller. She looked stunning, very pretty and impeccably groomed. The reporters in the courtroom all turned to watch her stride into the courtroom, chin up. Her lawyer, Washington powerhouse Bob Bennett, took a seat behind the Government's table. She was calm as she took the stand.