Fitz Alleges New Motive for Libby to Lie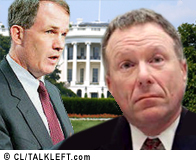 It must be true that trial lawyers never sleep when they are in trial. Check out the motion (pdf) Team Fitz filed yesterday alleging a new motive for Scooter Libby to lie to investigators and the grand jury. Shorter verson: Libby knew that he had signed non-disclosure agreements in connection with his employment and was afraid that by telling the truth that he disclosed Valerie Wilson's employment with the CIA to reporters, he was in violation of his agreement and would be fired and lose his security clearances.
Fitz alleges:
The government intends to prove that, at the time he made the charged false statements, defendant was aware that, if Ms. Wilson's employment status was in fact classified, or that Ms. Wilson was in fact a covert CIA officer, in addition to potential criminal prosecution under a number of statutes, defendant faced the possible loss of his security clearances, removal from office, and termination from employment as a result of his disclosures to New York Times reporter Judith Miller and Time magazine reporter Matthew Cooper.