The Scooter Libby Headline for Day One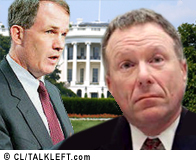 There's been lots of blogging coverage of Scooter Libby's first day of trial. In addition to those I mentioned in earlier posts, Christy at Firedoglake who was in the real (not media) courtroom posts this wrap-up.
As to Ted Wells' opening argument, I'm a bit surprised he chose to go after Rove so hard. It leads me to believe Rove won't be a witness. If Libby were to call him, surely he'd be a hostile witness after today's opening. I don't think Ted Wells wants to go mano - a - mano with Rove, not with Fitz backing Rove and Rove not impeachable on grounds he got a deal. There's no evidence Fitzgerald gave Rove anything for his multiple grand jury appearances.
Until today, Wells had a clean defense: Libby forgot and didn't intend to mislead investigators or the grand jury. Wilson's wife was just a speck in the grand scheme of things. Now, he's put Libby in the midst of an alleged frame-up. That's going to be a tough sell to the jury. But, given the Judge's refusal to allow a decent instruction on the principles of memory, maybe Wells needed a backup defense.
But that's not the headline for today. The real headline is much bigger and with far graver consequences to Libby. More below the fold.