Team Libby Throws Karl Rove Under the Bus in Opening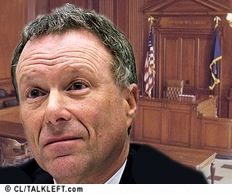 A huge thanks to Empty Wheel who live-blogged Fitzgerald's and Ted Wells' opening statments this morning over at Firedoglake. Wells will continue his statement this afternoon.
Shorter Version so far: Libby says the White House set him up to take the fall for Karl Rove.
Attorney Theodore Wells, in the opening statements of I. Lewis Libby's perjury trial, said Libby went to Vice President Dick Cheney in 2003 and complained that the White House was subtly blaming him for leaking Valerie Plame's identity to columnist Robert Novak.

''They're trying to set me up. They want me to be the sacrificial lamb,'' Wells said, recalling the conversation between Libby and Cheney. ''I will not be sacrificed so Karl Rove can be protected.''
More below the fold, to be updated throughout the day. Also, if you'd like your own place to discuss the trial, you can use the TalkLeft Libby Forums. Free registration is required as they are on a different part of the TL server than the blog.