Libby Jury Selection Completed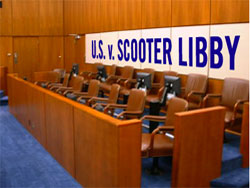 The jury has been seated in the trial of I. Lewis "Scooter" Libby.
Christy at Firedoglake reports the jury is composed of:
9 Women, 3 Men
10 Caucasian, 2 African American And one of the Caucasian women may or may not be Hispanic — there's some uncertainty there.)

....The alternate jurors are summed up as 2 African American women, 1 white woman and one white man.
As for occupation: