You Go, Jane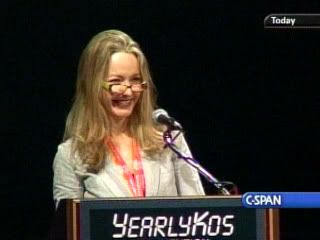 Jane Hamsher, of Firedoglake, is not only an unbelievable blogger who has put together one of the best, brightest and most thoughtful blog communities on the Internets, she's an incredibly humble human being.
Please go give her some blog love as she reveals today she is about to undergo surgery for her third bout with breast cancer. And don't forget to read the 500 comments posted so far. What a community the blogosphere is.
No one has covered the Valerie Plame and Scooter Libby investigations more than Jane. Her insights and writing ability on all Plame topics have been unparalleled in the blogosphere.
How cruel that she worked for months to secure the only in courtroom press pass awarded to a blogger in the Libby trial, as well as a media courtroom pass, arranged for the FDL crew to have a house in D.C. while covering the trial, and now she can't be there because she's going in for surgery.
The only good news is that she expects to fully recover, and get this because it's pure Jane, anticipates being in D.C. to cover the trial beginning Feb. 4.
You go, Jane. You're not only a survivor, but a winner. My hat is off to you. Take care of yourself, listen to your doctors, and I hope to see you in D.C. in February.