CNN on Bloggers Covering Libby Trial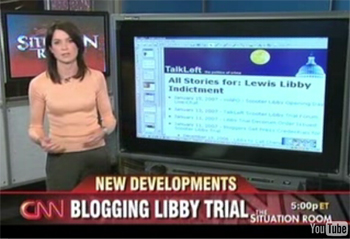 CNN's Situation Room Monday ran this segment on bloggers covering the Scooter Libby trial. [Via Raw Story.] TalkLeft is prominently mentioned, with some quotes by me, as to what readers can expect from our coverage, namely, a fresh perspective and gut reactions, from those of us who have followed and written about the case from Day 1.
Thanks to the Media Bloggers Association, I will go to Washington after Feb. 15 (hopefully to cover some of the defense portion, assuming the trial, which is expected to last six weeks, is still going on.) Crooks and Liars will cover a week in early February.
Jane and Christy of Firedoglake have their own press passes, in conjunction with Huffington Post, and are already on the scene in D.C. Marcy Wheeler, whose book on the case, Anatomy of Deceit, will be published in February, who writes as Empty Wheel at the Next Hurrah and used to write for Daily Kos, is also covering the trial.