Bush's Iraq Speech: Open Thread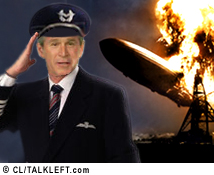 Here are some excerpts from Bush's speech tonight.
[Update: Text of speech is
here
.]
Several Republicans are balking at the plan:
A number of Republican senators -- including Sen. Gordon Smith of Oregon, Sen. Norm Coleman of Minnesota, Sen. Chuck Hagel of Nebraska, Sen. Olympia Snow of Maine and Sen. Sam Brownback of Kansas -- have publicly questioned whether Bush's plan to increase troop strength will help stabilize Iraq.

"A troop surge in Baghdad would put more American troops at risk to address a problem that is not a military problem," Coleman said Wednesday on the Senate floor.

"It would put more American soldiers in the cross hairs of sectarian violence and create more targets. I just don't believe this makes sense," Coleman said.
Democrats are upset, among other things, at Bush's lack of consultation with them over the plan. By the time he met with them, the plan was a fait accompli.