Bush's Iraq Speech: Open Thread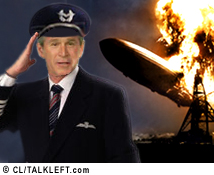 Here are some excerpts from Bush's speech tonight.
[Update: Text of speech is
here
.]
Several Republicans are balking at the plan:
A number of Republican senators -- including Sen. Gordon Smith of Oregon, Sen. Norm Coleman of Minnesota, Sen. Chuck Hagel of Nebraska, Sen. Olympia Snow of Maine and Sen. Sam Brownback of Kansas -- have publicly questioned whether Bush's plan to increase troop strength will help stabilize Iraq.

"A troop surge in Baghdad would put more American troops at risk to address a problem that is not a military problem," Coleman said Wednesday on the Senate floor.

"It would put more American soldiers in the cross hairs of sectarian violence and create more targets. I just don't believe this makes sense," Coleman said.
Democrats are upset, among other things, at Bush's lack of consultation with them over the plan. By the time he met with them, the plan was a fait accompli.
"There's a difference between consultation and notification," Pelosi said. "This was notification, not consultation."

"The president's practicing his speech right now," Reid said. "We had a conversation today that has no impact on what he's going to say."
New Mexico Governor Bill Richardson issued this press release earlier today(received by e-mail, no link).
"I strongly oppose any plan to increase American troop levels in Iraq. Sending more American troops will not make us safer. It will only add to the sectarian violence that is already tearing Iraq apart. I am also very concerned with this plan's impact on our overburdened National Guard forces, which already compose half of our forces in Iraq.

The only surge we need in Iraq is a diplomatic one. We need to withdraw American troops from Iraq this year, redeploy our men and women to Afghanistan and other international terrorism hotspots, and reinvigorate our diplomacy throughout the Middle East. We need a political solution to the Iraq crisis, not a military one."