Schapelle Corby Update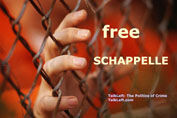 This being the new year, it's time to check in on Schapelle Corby who is serving 20 years in a hellhole of a Bali prison following her conviction for smuggling four kilos of pot into Bali. (Full coverage here.)
The news isn't good. Despite the fact that conditions at Kerobokan prison are disgusting, she has made friends there, is able to visit with her sister who resides in Bali and receive visits from her parents.
That is about to end. She is expecting to be moved to a prison on the remote side of the island:
Indonesian authorities are set to transfer the 29-year-old Brisbane woman to a prison in the East Java city of Malang, hundreds of kilometres from Kerobokan.....Papers authorising the transfer were sent weeks ago from Jakarta authorities to the warden of Kerobokan, Ilham Djaya, who says the transfer must go ahead because the prison is overcrowded.