Marine Charged With Murder in Haditha Killings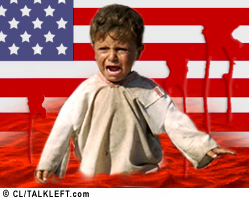 Bump and Update: Iraqis want the Marines charged in an Iraqi court. They fear they won't be held accountable in the U.S.
Update: Four Marines have been charged with murder. In all, eight marines have been charged with crimes in the Haditha killings.
Bump and Update: Twelve counts of murder have been filed against Staff Sergeant Frank Wuterich who commanded the marine squad near Haditha when 24 people were killed.
Staff Sergeant Frank Wuterich, who commanded a squad of marines near the town of Haditha in November last year faces 12 individual counts of murder and an additional count for ordering the troops under his charge to "shoot first, ask questions later", the charge sheet released to his attorney, Neil Puckett, said.

The charges do not include premeditated murder, and Sgt Wuterich faces a maximum sentence of life in prison.
Bump and Update: Charges will be announced at 4:00 pm ET.
The charge most likely will be dereliction of duty.
****** Original Post 12/20/06
Marine Captain to be Charged in Haditha Killings
A lawyer for a U.S. Marine Corps captain says his client, Lucas McConnell, will be charged Thursday in connection with the Haditha killings of 24 civilians in Iraqi.
Another marine may also be charged:
...a second officer, with a Marine intelligence unit that initially investigated and photographed the killings, might also be charged.
We reported on December 5 that five marines would likely be charged.