NBC Labels Iraq a Civil War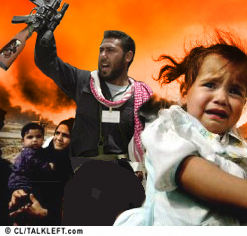 NBC News has officially labeled Iraq a civil war. Dan Froomkin writes in the Washington Post:
Here's what Matt Lauer announced on NBC's Today Show this morning: "As you know, for months now the White House has rejected claims that the situation in Iraq has deteriorated into civil war. And for the most part, news organizations, like NBC, have hesitated to characterize it as such. But, after careful consideration, NBC News has decided the change in terminology is warranted -- that the situation in Iraq, with armed militarized factions fighting for their own political agendas, can now be characterized as civil war."
Think Progess has some video of MSNBC's Contessa Brewer announcing the decision was made to call it a civil war this weekend.
MSNBC's Contessa Brewer explained that "the White House continues to resist" the phrase, but that "after careful thought, MSNBC and NBC News decided over the weekend, the terminology is appropriate, as armed militarized factions fight for their own political agendas."
U.N. Secretary General Kofi Annan says Iraq is on the brink of civil war.
"Given the developments on the ground, unless something is done drastically and urgently to arrest the deteriorating situation, we could be there. In fact, we are almost there," Annan said when a reporter asked about the prospects of civil war in Iraq.
And an updated report on the Anbar province in Iraq by U.S. Marine Corps Intelligence finds:
The U.S. military is no longer able to defeat a bloody insurgency in western Iraq or counter al-Qaeda's rising popularity there, according to newly disclosed details from a classified Marine Corps intelligence report that set off debate in recent months about the military's mission in Anbar province.
In an unusually blunt paragraph of the report, obtained by the Washinton Post, the authors write:
"the potential for economic revival appears to be nonexistent" in Anbar, the report says.... "Despite the success of the December elections, nearly all government institutions from the village to provincial levels have disintegrated or have been thoroughly corrupted and infiltrated by Al Qaeda in Iraq," or a smattering of other insurgent groups, the report says.
The five page secret report was authored by Col. Peter Devlin, "a senior and seasoned military intelligence officer with the Marine Expeditionary Force."
Now that everyone agrees we can't solve Iraq's problems, and since the country wasn't a threat to us in the first place, can we just go home now?
Answer: Probably not until Bush finds a political solution so it doesn't look like we lost or fought for nothing.