Lack of Progress Seen in Shutting Down Bush's Warantless Wiretapping Program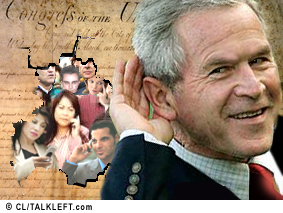 It's been almost a year since the public learned of President Bush's warrantless NSA electronic surveillance program.
Under the Republican leadership in Congress, nothing much happened to shut it down. A lot of bad bills, such as Sen. Arlen Specter's, were tossed around but went nowhere.
What will change in January when Democrats have a majority in Congress? Not enough, from my vantage point, but here's the lowdown: