NRCC Participated in Foley Damage Control Before Story Broke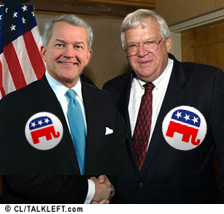 Reporter Ben Smith of the New York Daily News has the exclusive on how the National Republican Campaign Committee participated in damage control talks on Rep. Mark Foley two days before ABC News broke the story of his inappropriate e-mail to a congressional page.
NRCC Communications Director Carl Forti and Reynolds then chief-of-staff Kirk Fordham both took part in the first call the evening of Wednesday, September 27, and one call the next day, Forti and other sources familiar with the call confirmed. Forti's involvement and the NRCC's role in the run-up to the Foley scandal add another link between the disgraced former congressman and Reynolds, who has said he knew only indirectly of questionable emails, and that he reported them to his House superiors. They also reflect another moment at which House GOP leadership was aware of concerns about Foley and pages.
Smith was tipped to the calls by the intrepid Murray Waas: