Final NY Times/CBS Poll: Iraq Driving Election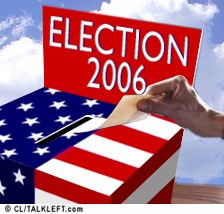 The New York Times reports on its final pre-election poll, conducted with CBS.
A substantial majority of Americans expect Democrats to reduce or end American military involvement in Iraq if they win control of Congress next Tuesday and say Republicans will maintain or increase troop levels to try to win the war if they hold on to power on Capitol Hill.
Bush's war approval rating sinks to its lowest level yet: 29%.
The poll showed that 29 percent of Americans approve of the way President Bush is managing the war, matching the lowest mark of his presidency. Nearly 70 percent said Mr. Bush did not have a plan to end the war, and 80 percent said Mr. Bush's latest effort to rally public support for the conflict amounted to a change in language but not policy.
The poll also shows the changes voters expect from Democrats: