Dems to Push for Phased Troop Withdrawal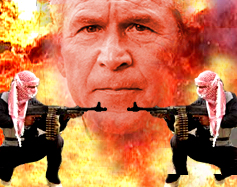 The Democrats have been far from aligned on an exit strategy from Iraq. But they now seem to be agreeing that the troops should start coming home in four to six months.
The Democrats — the incoming majority leader, Senator Harry Reid of Nevada; the incoming Armed Services Committee chairman, Senator Carl Levin of Michigan; and the incoming Foreign Relations Committee chairman, Senator Joseph R. Biden Jr. of Delaware — said a phased redeployment of troops would be their top priority when the new Congress convenes in January, even before an investigation of the conduct of the war.

"We need to begin a phased redeployment of forces from Iraq in four to six months," Mr. Levin said in an appearance on the ABC News program "This Week." In a telephone interview later, Mr. Levin added, "The point of this is to signal to the Iraqis that the open-ended commitment is over and that they are going to have to solve their own problems."
I'll agree, this needs to be a top priority. And how out of touch is John McCain, who on Meet the Press Sunday morning, said we need to stay the course and send more troops?