Bush Presses for Warrantless Surveillance Legislation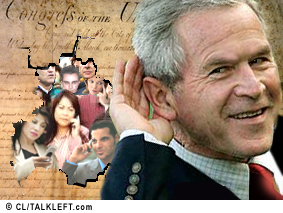 President Bush is pressing Democratic leaders to have Congress legitimize his warrantless surveillance program. That and confirming John Bolton to the U.N. are high on his agenda for the remainder of the year.
Happily, Democrats don't seem likely to play along.
Senate Democrats, emboldened by Election Day wins that put them in control of Congress as of January, say they would rather wait until next year to look at the issue. "I can't say that we won't do it, but there's no guarantee that we're going spend a lot of time on controversial measures," Democratic Whip Richard Durbin of Illinois said Thursday.

In Senate parlance, that means no.
As to where things stand on the warrantless surveillance bills pending in Congress: