Schapelle Rots in Bali Jail While Islamic Terrorists Go Free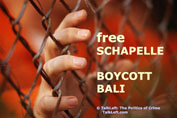 It's been a while since we checked in with Schapelle Corby who is doing 20 years in a hellhole of an Indonesian prison.
Schapelle describes her conditions in a new book to be published in two weeks. Australia's Women's Weekly pubished an excerpt today. The article is not online, but quotes from it appear in the news.