Court Vacates Ken Lay's Conviction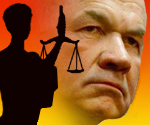 The federal judge in Ken Lay's Enron trial has vacated his conviction. Charges against him were dismissed.
In his decision, Lake cited a decision in the 5th Circuit Court of Appeals that makes death, before the appeals process has been exhausted, grounds for throwing out a conviction and dismissing an indictment.
Although the Justice Department tried to get Congress to trump the precedent by passing a law, no member of Congress voted for it.