Durbin on Torture and the Military Commissions Bill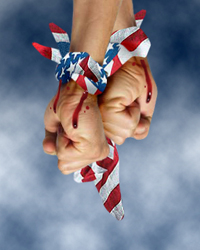 There are two horrible provisions in the military commissions bill. One would grant amnesty to Bush administration officials who authorized the use of torture techniques. The other would eliminate habeas for detainees.
While we've all focused a lot on the habeas provision, Sen. Dick Durbin points out in this long statement he delivered today in the Senate that the torture amnesty provision is not receiving nearly enough attention.