Rep. Bob Ney to Plead Guilty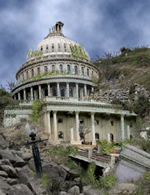 Update: Washington Post (Ney will use alcoholism as an excuse); CNN (deal involves plea to two charges.)
******
Original post: 9/14
Via TPM Muckraker, the tentacles of the Jack Abramoff investigation continue to grow. A blog at the Cleveland Plain Dealer reports that Ohio Republican Congressman Bob Ney has reached a plea agreement with the Justice Department and will plead guilty to a criminal charge, possibly Friday.
Ney's woes stem from dealings with convicted lobbyist Jack Abramoff that became public in 2004. A Texas Indian tribe told the Senate Indian Affairs committee that Ney agreed to help them re-open a closed casino in exchange for political donations and a trip to Scotland to play golf.

Ney said he was misled by Abramoff and his associates. He denied wrongdoing even after Abramoff and other lobbyists for casino-operating Indian tribes pleaded guilty to criminal charges that stemmed from efforts to ply Ney with gifts including sports tickets, meals and trips, that were in exchange for official acts. Four lobbyists, including Ney's former chief-of-staff, have pleaded guilty to criminal charges in the case.
What do you think, a misdemeanor?