Lieberman Tries to Exploit British Terror Threat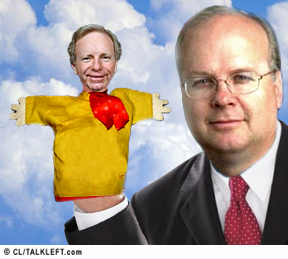 Joe Lieberman, puppet of the Bush Administration.
"If we just pick up like Ned Lamont wants us to do, get out by a date certain, it will be taken as a tremendous victory by the same people who wanted to blow up these planes in this plot hatched in England," Mr. Lieberman said at a campaign event in Waterbury, Conn. "It will strengthen them, and they will strike again."
In 1994, Newt Gingrich's plan was to foist a Contract on America on us, instilling the fear of crime in the heart of every American. In 2006, Lieberman thinks he can propel himself to victory by cementing the fear of terrorism in the heart of every Amercian.
Newt's plan was unsuccessful when it came to crime issues. Lieberman won't fare any better.