U.S. Ties British Threats to al-Qaeda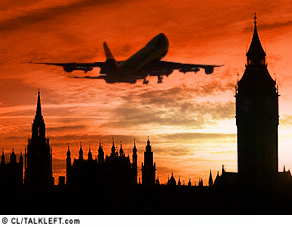 Update: Crooks and Liars has the video of Bush speaking to the threat.
******
Homeland Security Secretary Michael Chertoff today tied the British aircraft terror threats to al-Qaeda.
Homeland Security Secretary Michael Chertoff said the plot appeared to have been engineered by al-Qaida, the terrorist group that hijacked two planes from Boston on Sept. 11, 2001, and flew them into the World Trade Center towers in New York.
Things are not progressing smoothly at U.S. airports, so if you are traveling, be forewarned.
Growing lines of irritated travelers snaked through U.S. airport terminals Thursday as people waited hours to reach security checkpoints, where they were ordered to dump their water bottles, suntan lotion and even toothpaste following the discovery of a terror plot in Britain.