Novak: Giuliani Will Run for President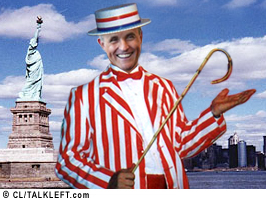 Columnist Bob Novak reports today that he has confirmed Rudy Giuliani will run for President. I'd take ten Liebermans over one Giuliani any day, so if this is true, it's dismal news:
A footnote: A report in this column that Rudy Giuliani intends to run for president has been confirmed by one of the former New York mayor's closest Republican friends. He said Giuliani definitely is running.
Perhaps the report that Bernie Kerik is now under federal investigation although denied by his lawyer, is true. If so, Rudy may be entangled in it -- at least it promises to be another example of his poor judge of character when it comes to appointing officials within his administration: