Lieberman Shifts Strategy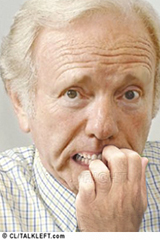 Update: Lieberman, fearing a loss, shifts his strategy:
Facing a likely defeat, Lieberman has scrapped plans for a massive and costly get-out-the-vote operation on primary day, according to several Democratic sources. Instead, he will shift some of his resources into more television commercials designed to highlight his accomplishments for the state, in hopes of boosting his battered image....a landslide loss to Lamont could complicate Lieberman's hopes of winning a fourth term in a three-way general election contest.
Lieberman's internal polls show him losing:
Another campaign adviser, who spoke on the condition of anonymity in order to discuss strategy, said the public poll tracked internal campaign surveys. "The race has been headed in that direction for a while," the adviser said. "It's a fairly accurate reflection of where the race is."
Liebermnan's strategy changed at the last minute, fearing a big loss:
The Lieberman campaign, fearing that low voter turnout in the primary would favor Lamont, had plans to build a get-out-the-vote operation bigger than any seen in a state race in Connecticut. But in the face of discouraging polls, campaign officials concluded this week that the money likely would be wasted.
Why are we so focused on the Lieberman-Lamont race?
Lieberman's struggle has drawn national attention because it illustrates the power of antiwar activism in the Democratic Party and because of its potential implications for other races in the November midterm elections.
Update: The Lieberkidz try a thug strategy against Lamont.