Fla, Rebublican Party Rescinds Support for Katherine Harris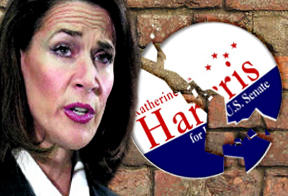 Surely this should have been the final blow to Katherine Harris' senate campaign.
The state Republican Party bluntly told Rep. Katherine Harris that she couldn't win this fall's Senate election and that the party wouldn't support her campaign, a letter obtained Monday by The Associated Press shows.....The letter said: "Katherine, though it causes us much anguish, we have determined that your campaign faces irreparable damage. We feel that we have no other choice but to revoke our support.

"The polls tell us that no matter how you run this race, you will not be successful in beating Bill Nelson, who would otherwise be a vulnerable incumbent if forced to face a stronger candidate," it said.
But no, Harris could care less. The day after receiving the letter in May she placed her name on the September primary ballot. She says those that signed the letter were pressured into doing so.