Rice Brings Bush Peace Plan to Israel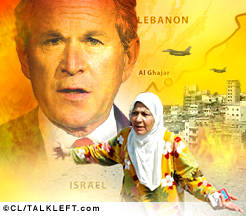 Secretary of State Condoleezza Rice is now in Israel where she will attempt to sell Bush's new peace plan. From Reuters:
U.S. Secretary of State Condoleezza Rice arrived in Jerusalem on Saturday for talks on ending the war in Lebanon as Israel signaled it would not demand the immediate disarming of Hizbollah as part of any deal. Accusing Rice of serving only Israel's interests, Hizbollah leader Sayyed Hassan Nasrallah vowed more attacks on Israel's cities if it did not end an offensive launched after the guerrilla group captured two soldiers in a raid on July 12.

Israel rejected as unnecessary a United Nations plea for a three-day truce to aid civilians trapped by fighting as its forces pulled out of the Lebanese border town of Bint Jbeil, scene of fierce fighting in recent days.