Duke Lacrosse: Judge Issues Split Opinions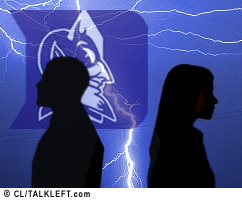 The Judge in the Duke Lacrosse players' alleged rape case issued a split decision yesterday on the unindicted players' motion to prevent the DA from gaining access to their addresses and information stored on their key cards.
Judge Ken Titus decided that Durham District Attorney Mike Nifong can have the addresses of lacrosse players not charged in the case. However, Titus will not allow Nifong to have information that is contained in the same players' key cards.

Nifong said he needs the information because all of the players could be possible witnesses. Defense attorneys said it is an invasion of the players' privacy and some argue it could compromise their safety.
The judge's decision is here . He found: