Karl Rove Gets Cheered and Jeered in Aspen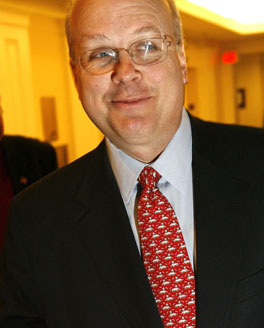 Karl Rove spoke at the Aspen Ideas Festival Sunday. Aspen Daily News reporter Troy Hooper has the full run-down. There's vintage Karl:
Karl Rove praised the military and civilian leadership's flexibility in managing the Iraq war, which has required field commanders to adapt to unconventional combat styles and means of rebuilding communities. Rove noted that his own cousin has served three tours of duty over there.
There's Rove in spin mode on Iraq:
"You know it's not going to be U.S. style. It's not going to be a Midwest small-town atmosphere. It's going to be Iraq with deeply felt sectarian strains with bad guys and people with lots of guns, but it is going to be a functioning society. It already is a distinct improvement on the society that existed."