Live Blogging the Lieberman- Lamont Debate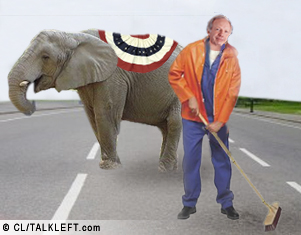 Final Update and thoughts: Considering Lamont is the less experienced debater, he did an excellent job. While Lieberman touted his own trustworthiness and experience, and tried to attack Lamont, Lamont came off as fresh-faced and someone who shares our values and would bring a change to Washington. Lamont talked about policies he supports and Bush policies that need to be changed, while Lieberman defended his past votes. Lieberman was on the ropes from the beginning and he stayed there. Lieberman got repetitive and weaker as the hour went on, Lamont got stronger.
Final word goes to C.L., TalkLeft's graphic artist, who e-mailed in: "Lamont was a little bit of the deer caught in the headlights but likeable and solid. Leiberman just seems petulant."
Update 9: Closing statements: Lieberman is reading his, very distracting. Shorter version: I have 18 years of experience, he served on the Greenwich town council a decade or more ago. He offers negativism. Lieberman stops reading and finally speaks from his heart. His voice almost cracks as he asks the people to support him and elect him to another six years.
Lamont says he will fight for our civil liberties, for social security, he'll bring our troops home to the heroes welcome they deserve. People should vote from their hearts. "My name is Ned Lamont and if you approve this message, I could use your support on August 8." Good close.